DMV VESSEL/BOAT TAGS
To register and title your new vessel/boat or register your vessel/boat in California for the first time you will need the following: an application for registration number certificate of ownership and certificate of number for undocumented vessel/boat (BOAT 101) form. You can visit Wyatt Vehicle Registration Service to get this done fast, with no lines and no waiting. Get your vessel/boat tags instantly, walk in and walk out with your vessel/boat tags. Which vessels/boats must be registered? In general, every sail powered vessel/boat over eight feet long and motor driven vessel/boat not documented by the U.S. Coast Guard, used on California waters are to be registered by DMV or an authorized facility like Wyatt Vehicle Registration Service. Vessel/boat registration tags are good for two years. In California you do not need a license to drive
a boat. The driver of the boat is required to carry with them a lifetime card that states they are qualified to operate a vessel/boat. To get this lifetime card you must pass an approved safety exam known as the National Association of State Boating Law Administrators or NASBLA. This card is issued by the California State Parks Division of Boating and
Waterways. There is a minimum age to drive a boat. In California you are not required to have boat insurance. This
does not mean that you don't need it, there is always risk.

Wyatt Insurance Agency can help you shop for the right type of insurance to cover all your need.
Wyatt Vehicle Registration Service
DMV Renewals DMV Transfers
3525 Mitchell Road, Suite A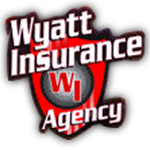 DMV-WYATT VEHICLE REGISTRATION SERVICE
1071 E

. Yosemite Ave, Suite A-1
Manteca, CA 95336